"It's the most wonderful time of the year," the 1960s Andy Williams song goes. In many ways, it certainly is. A time of getting together with friends and loved ones, of giving and receiving gifts, of being thankful for the good things we've been lucky to have and experience, and of looking forward to the future, and to the year ahead.
But it's not so wonderful for everyone, as we all know from the stories we see on the news and social media, and just from seeing what happens to the people in our lives. The wonder of this time of year is unfortunately always diminished by the challenges, hardships and pain we, those we care for, and our fellow humans on this planet in general suffer. The childlike wonder of the Christmastime of our youth rarely follows us into adulthood, no matter how optimistic, holistic or spiritual we may see ourselves.
However I don't think that's a bad thing. If we allow it, experience brings maturity, maturity brings empathy. Without empathy, the world would be a far colder, scarier place to live. I'm truly thankful for those in my life who've taught me what empathy, giving and loving is all about: my family, my husband, and those I call friends. I'm even thankful for those in my life who've helped me grow up through, shall we say, 'presenting me with challenges'. Without having had the opportunity to grow through those challenges, I wouldn't be the person I am today. So, while Christmas today for me is a less carefree and less enchanting time of the year than it was in my childhood, it's also less selfish and egocentric, and more thoughtful one. My wish at this time of year is that I continue down that path, and be always a truly useful help and support to those around me who I love. I have a ways to go yet.
This week the festivity of Christmas amps up in my world: I have two community Christmas gigs, my last pre-Christmas music & percussion workshop and concert for the beautiful clients at disability groups activity centre Kira, and I will be unable to restrain myself from slipping the odd festive song in to my set lists for a businesspeople, families and singles out and about, enjoying the jolly season in the pubs and bistros I play at. Maybe you will be among them :) Here are my public Perth, Australia
gigs
in the lead-up to Christmas Day:
Friday, 11 December
- solo at Hedgehog's Christmas Advent Day, from around 12pm to 1pm at Hedgehogs Cafe, Bassendean
- solo from 5:30pm to 8:30pm at The Vic Hotel, Subiaco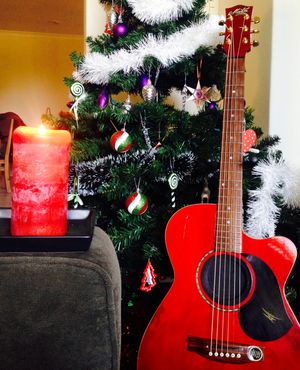 Saturday, 12 December
- solo from 6pm to 9pm at the Nag's Head Tavern, Cooloongup
Sunday, 13 December
- solo from 1:30pm to 4:30pm at 7th Ave Bar & Bistro
Friday, 18 December
- solo from 7:30pm to 10:30pm at the Last Drop in Warnbro
Saturday, 19 December
- trio The Wire play the 
Bolt Coffee Christmas fundraiser
evening in Hazelmere
Sunday, 20 December
- solo from 1:30pm to 4:30pm at 7th Ave Bar & Bistro
Thursday, 24 December 
- Christmas Eve at the Vic, solo from 4:30pm to 7:30pm at The Vic Hotel, Subiaco
You can check out the details on my
Gigs
page.
I hope the lead-up to your Christmas is stacked more on the side of joy, frivolity, friendship and happiness than...well, all the things that can make up the other side of Christmas. And do I hope to see you at a gig somewhere before the 'C' day, but whatever you do get up to, do keep enjoying your music. :)
Sue xo
P.S. You can read my latest blog post on my
Blog
page, where I talk about recent interesting gigs and new musical ventures. 
P.P.S. You can now download my single 'Sand' for free: go to http://suesummersmusic.com/track/533285/sand?feature_id=67239 and click on 'Free' to download.